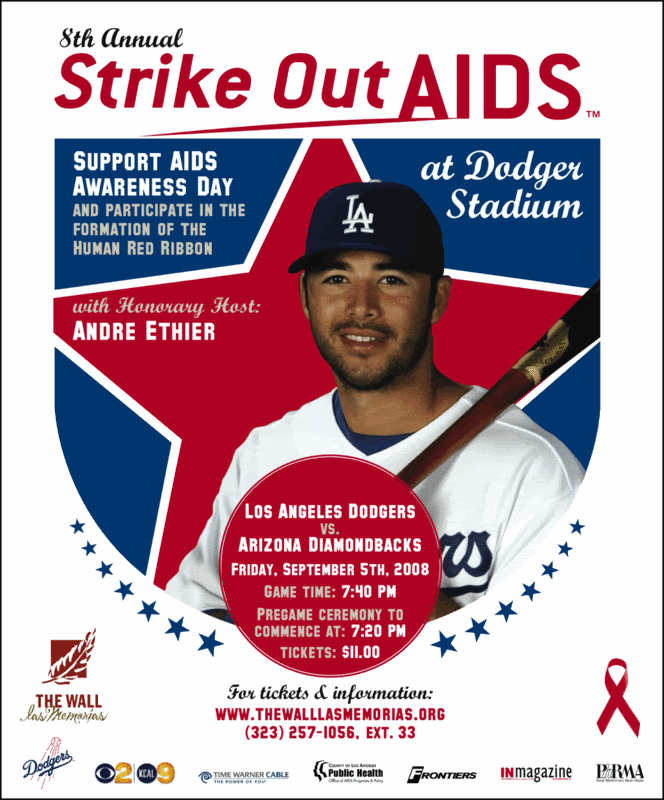 RELEASE
Monday, September 8, 2008
For Immediate Release
Contact: Edward Headington
Edward@HeadingtonMedia.com
818-720-7181

Los Angeles, CA – Several hundred people adorned in red were on the Los Angeles Dodgers field to take part in the Human Red Ribbon ceremony before the game this past Friday. Dodger fans cheered as several celebrities and faith leaders participated in the ceremony as well as the singing of the national anthem by opera singer Suzanna Guzman and actress/activist Sheryl Lee Ralph throwing out of the first pitch. Both Dodger slugger and Honorary Host, Andre Ethier, and Consul General of Mexico in Los Angeles, Juan Marcos Gutiérrez González, were on hand for the festivities.
Support from the clergy was particularly strong as many faith leaders took part in the ceremony. They included: Pastor Ezra LaTurco – Victory Outreach Eagle Rock; Padre Federico Sierra – St. Mark's Episcopal Church; Pastor Randy Carillo – Church of The City Ministries; Chaplin Ruth Anne Tarletz de Molina – Mountain of the Lord Fellowship; Reverend Kathy Ledesma –Hollywood United Methodist Church; Pastor Vilma Cruz – Pico Union Shalom; Father David Ochoa – Immaculate Heart of Mary Church; Father Alejandro Escoto – Metropolitan Community Church Los Angeles; Elder Ricardo Moreno – Emmanuel Presbyterian Church; Reverend Sis Raedorah – Presbyterian Welcome; Reverend Jerry Stinson – First Congregational Church of Long Beach; Sister Miriam Joseph – Immaculate Heart of Mary Church; Sister Ines Arguello – Nuestra Señora de Guadalupe en El Monte; Sister Gabriela Luna – Nuestra Señora de Guadalupe en El Monte; Sister Catherine Marie Diaz – San Ignacio en Highland Park; Sister Clara Luz – San Gregory the Great Catholic Church; and Sister Asusena Espinosa – San Ignacio en Highland Park.
"It is wonderful to have such support by the Los Angeles Dodgers, the entertainment community and faith leaders," said Wall Las Memorias Project President and Founder, Richard Zaldivar. "I also want to thank the Consul General for being here and all of the supportive Dodgers fans."
This was the eighth year the Wall Las Memorias Project held Strike Out AIDS at Dodger Stadium and it is part of larger AIDS awareness efforts across the nation. Celebrities Lupe Ontiveros, Pauley Perrette and Herbert Siguenza were also on the field as well as a host of other supporters like Dean Leavenworth of Time Warner, Helen Romero Shaw and Andy Carrasco of the Gas Company, Kyle Baker of OAPP, and Stephanie Medina Rodriguez of CBS 2 /KCAL 9.
"Andre Ethier may have gone 5 for 5 that night but he's is 6 for 6 in our book," said Zaldivar. "He has been a terrific Honorary Host and I would like to thank our other co-sponsors for the event: CBS 2/KCAL 9, Time Warner Cable, the County of Los Angeles Public Health Department, Frontiers magazine, In magazine, PhRMA, state Senator Gilbert Cedillo, and American Apparel. We could not have done it without you."
###

The Wall Las Memorias Project has built support for its AIDS monument through innovative prevention programs, leadership training and grassroots community organizing. With strong community support for the project, local elected officials helped secure state and local public funding for the AIDS monument, making it the first publicly funded AIDS monument in the nation. The Wall Las Memorias Project continues to be at the forefront of the battle to stop the spread of HIV/AIDS. The AIDS monument will bring awareness and remind us that the need for education remains vital to our community. For more information, go to www.TheWallLasMemorias.org/ or call (323) 257-1056.

Headington Media Group is a full-service communications firm that specializes in image management, branding and public relations. It is a strong supporter of public affairs, especially those working in the 4th Estate. For more information, go to HMG and/or visit The Headington Cabal.